"Who Does This To People?"
This story appears in ESPN The Magazine's Sept. 18 NFL Preview Issue.
I'm sitting here outside the hospital in my car taking deep breaths. I was told I need to take off of work to be trained on how to administer the [tracheostomy tube] and keep it clean and I actually think I'm in a state of shock:
How do I do this and work full time?
How do I do this and take care of a 20 year old special needs son?
How do I do this and run around with a 9 year old who dreams of modeling, acting, being a pageant princess and still maintain her GPA and make sure that she is a well balanced 9 year old?
How do I maintain the house and cook and clean?
When do I work out?
And my thoughts go to the NFL and I am numb, they knew but because of money hid it?
Who does this to people, to families?
---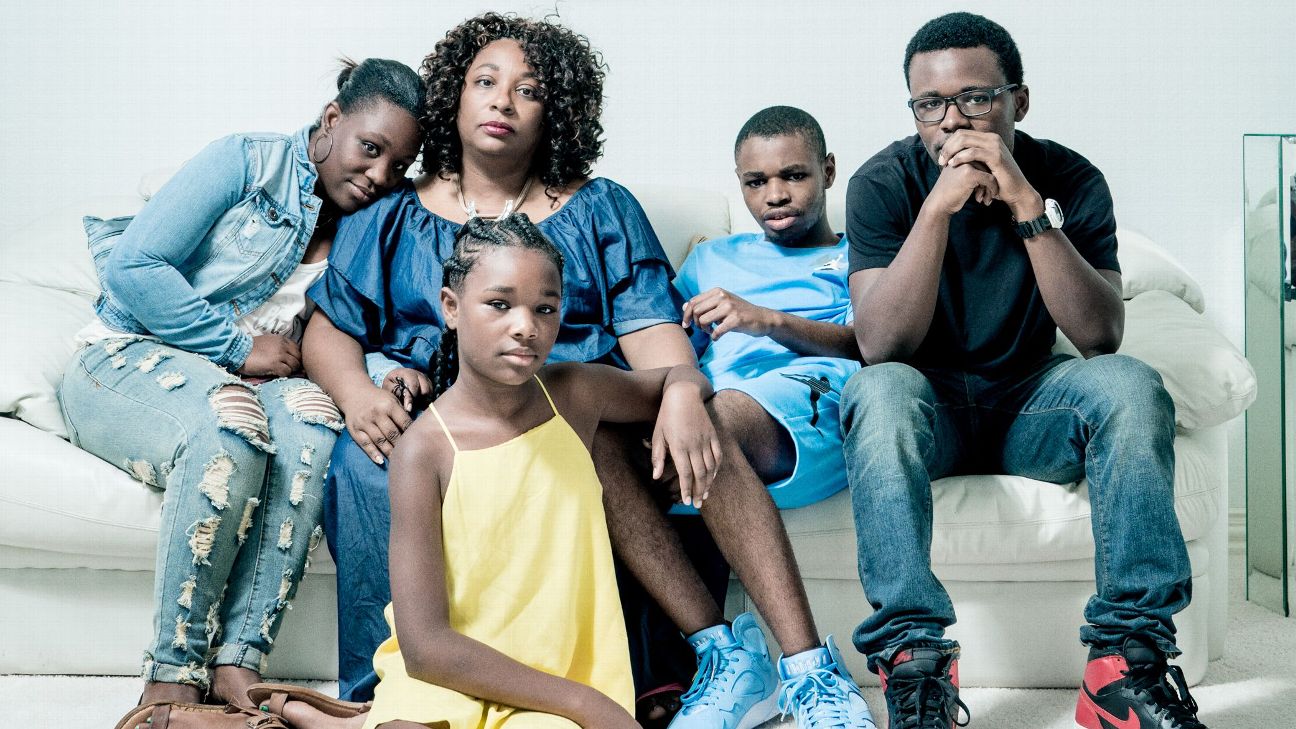 IT'S A HOT summer evening in Dallas, and Lorraine Dixon is trying desperately not to fall apart. She's holed up in her car outside of William P. Clements Jr. University Hospital, terrified. Tubes have been surgically inserted into her husband's throat and stomach, procedures designed to help him eat and breathe. But in reality, they represent more work for Lorraine and heightened fears that the end is near. The doctors said her husband had three to five years to live. This is Year 4.
Lorraine's mind is racing, but she can't speak her thoughts, can't give them life, so instead she texts them to a reporter who has been pressing for details of a life shaped by football in ways she never could have imagined.
Two days earlier, Boston University researchers had announced that, out of 111 brains of former NFL players they had studied, all but one was laden with a neurodegenerative disease. Behind those numbers are women like Lorraine Dixon — and perhaps thousands of others — battling the human dimensions of a growing crisis that reverberates outward, from the crippled men down through their entire families.
Some researchers — particularly those affiliated with the NFL and other sports leagues — have suggested that the connection between football and long-term brain damage is overstated: that the link between the two is unsettled, that the BU research is limited and skewed, and that the scope of the problem is likely far smaller than imagined. But there is a Facebook group called "Women of the NFL" that suggests otherwise. It has more than 2,000 members — wives, girlfriends, ex-wives, daughters, widows of former players — whose interaction these days often revolves around brain-addled men.
This, then, is not another story about the warriors who sacrificed their minds and bodies to build football into a $14 billion industry. Rather, this is the tale of the women behind the men; women who have now been thrust into the roles of caretakers, managing the lives of men who once embodied strength and self-reliance.
Men like Rickey Dixon, who played six seasons in the NFL, from 1988 to 1993, and was diagnosed four years ago, at age 47, with Lou Gehrig's disease (amyotrophic lateral sclerosis, or ALS). Today, Dixon is restricted largely to his bed and a wheelchair — unable to do anything independently. Other than think.
"He's trapped in a body that doesn't work," says Lorraine, who has been married to Dixon for 24 years.
Or men like Gerry Sullivan, who played eight seasons in the NFL, from 1974 to 1981, and then two more in the USFL.
"So, he's basically got, I always like to say, [10] years of pro football under his belt and, unfortunately, under his brain," says Liz Nicholson Sullivan, who has been with Gerry for more than two decades; the two were married two years ago.
In 2004, at age 52, Gerry Sullivan was diagnosed with frontal lobe dementia. He's now largely a shut-in, confined to their high-rise apartment in Chicago, fearful of going outside, paranoid and so forgetful that their home is riddled with Post-it notes.
For Lorraine Dixon, Liz Nicholson Sullivan and so many other women, their NFL experiences have been redefined in later years, colored by the transformations of these men and, now, by the legal battles they're waging. It has fallen on them to navigate the NFL concussion case — the $1 billion settlement that stemmed from thousands of players suing the league over claims it hid the dangers of concussions. The settlement was supposed to provide much-needed money to ease their burdens; instead, for many, it has become a legal morass defined by battles with lawyers, predatory lenders and a complicated award process.
Says Nicholson Sullivan: "It is a very difficult world that we are living in right now in light of the lawsuit and in light of the enormous amount of, I won't call them vultures, I will call them people that are coming out to profit from NFL families that are struggling with a loved one who is very sick."
Says Lorraine Dixon, herself an attorney: "It's just a bunch of greed going on, and it's sickening."
---